Propolis Extract – Alcohol Free (Nº 07)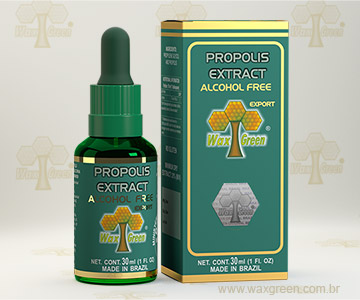 Alcohol-Free Propolis was especially developed for individuals who are intolerant to alcohol or under medical treatment banning alcohol consumption. Glycol was used in this Alcohol-Free Propolis to replace the Grain Alcohol. This Alcohol-Free Propolis contains 25% of dry extract. In this concentration it may be used for general health maintenance, as well as a turbo-booster to the immune system of individuals with chronic diseases. Recent research indicates that the daily consumption of small doses of Propolis promotes cardiovascular protection and reduces oxidative stress in cells caused by free radicals. People with a family history of cancer can enjoy the daily protection offered by Alcohol-Free Propolis in the prevention of this disease.
Dry Extract: 25%
Suggested Use:
General health: 5 drops, diluted in water or fruit juice, 2 times a day
Chronic cases: 10 drops, diluted in water or fruit juice, 2 times a day
Children under 12: 5 to 10 drops 2-3 times daily diluted in fruit juice or water or mix with a teaspoon of honey to become more palatable.