Propolis Capsules 80 – (# 61)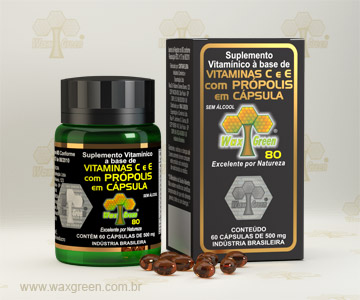 Our Propolis Capsules have always been produced with pure Green Propolis without any addition of oil, alcohol or water, but we have added vitamins C and E making it a powerful food supplement in the prevention of diseases in general.
 Product Description: 
# 61 – Bottle contains 60 x 500mg capsules.
# 60 - Cartridge contains 3 blister with 10 x 500mg capsules.
Benefits:
Minimizes side effects of aggressive treatments against diseases such as cancer, ulcers and AIDS. Daily use as a dietary supplement helps prevent degenerative diseases, typical viral respiratory tract infections, and various types of inflammations. Propolis stimulates the immune system, protecting the human organism against a wide range of illnesses. It can be taken along with your multivitamin complex.
Suggested use: 
Adults: take 3 to 4 capsules daily, preferably with an empty stomach.
Children: 1 to 2 capsules daily, preferably with an empty stomach.
Warning: Propolis should not replace the medication prescribed by your doctor. There have been rare cases of allergy to Propolis, but in case of allergic reactions discontinue use immediately.