Propolis Capsules 75 – (# 71)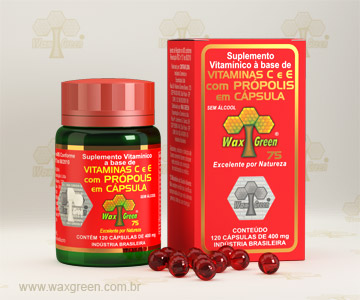 Package Description:
# 70 – Cartridge with 3 blisters with 10 x 400mg capsules
# 71 – Flask with 120 x 400mg capsules
Ingredients: Propolis extract in oily solution
Technical information: Propolis capsules were idealized for consumers who prize the medicinal properties of Propolis but resent its strong flavor. Each capsule equals 10 drops of Propolis and is easily absorbed by the organism.
Benefits: Helps the body fight respiratory tract infections, is an excellent co-adjuvant in treating gastric ulcers. It is diuretic and eases bowel mobility. Continued use of Propolis supports the immune system and maximizes health and wellness of consumers of all ages.
Suggested use: 
Adults: take 3 to 4 capsules daily
Children: 1 to 2 capsules daily
For maximum results take it 20 minutes before meals with an empty stomach or as recommended by your health care professional. Can be taken along with your multivitamin complex.