Wax-Free Black 60 Propolis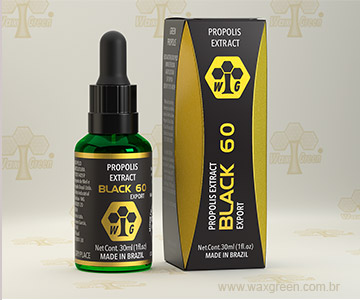 Wax-Free Black 60 is formulated with higher dry extract concentration, and can be used as adjunct to treatment in crises of more serious illnesses, such as Herpes lesions (HSV), skin diseases, rheumatism, arthritis and high blood pressure. Wax-Free Black 60 Propolis carries along the same virtues of all other Propolis; however, higher concentrations make this product more effective in cases of serious diseases and chronic infections that no longer respond to the action of antibiotics. Propolis, in this concentration, is also very effective in treating ailments of the digestive and respiratory tract as well as preventing oxidative stress, a biological condition linked to almost all maladies affecting humans, especially degenerative diseases such as Parkinson's and Alzheimer's disease. Numerous studies in countries around the world have demonstrated the efficacy of Propolis in fighting free radicals, the true cause of oxidative stress.
Dry Propolis Extract: 32%
Suggested Use:
Adults: 10 to 20 drops diluted in fruit juice or water 2 to 3 times daily.
Children under 12: 5 to 10 drops diluted in fruit juice or water 2-3 times daily.
Warning: Propolis should not, under no circumstances, replace the medication prescribed by your doctor. In case of allergic reactions discontinue use immediately.