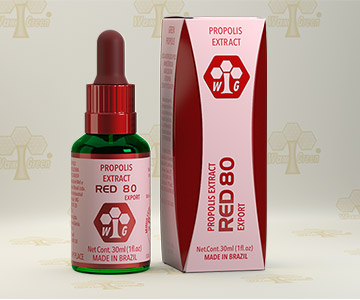 Red 80 Propolis has been specially formulated to be a natural ointment for external use. This product promotes the healing and regeneration of tissue. Red 80 carries a high concentration of Propolis dry extract and, unlike our other Wax-Free products, contains wax. When applied to the skin, the wax forms a protective film against invading bacteria. Minor cuts and burns, acne and allergic skin reactions can be treated with this product. Due to the high content of dry extract, Red 80 Propolis can be a powerful adjuvant in the treatment of severe herpes sores (HSV 1 & 2), venous ulcers, and even cancerous sores. This product shows excellent results in healing sores in patients with diabetes. Red 80 Propolis can be ingested, since wax does not pose any threat to the human body.
Dry Propolis Extract: 30%
Suggested Use:
- Apply Red 80 Propolis directly onto the affected part of the skin three times daily and at bedtime.
- For skin diseases, a cotton swab may be used to mix 1 or 2 drops with the ointment prescribed by the doctor and to dab the affected area, while constantly following the manufacturer's instructions.
Warning: Propolis should not, under no circumstances, replace the medication prescribed by your doctor. In case of allergic reactions discontinue use immediately.